BACH Goldberg Variations BWV988
Warner Classics Apex 0927-49979-2
To go directly to audio samples click HERE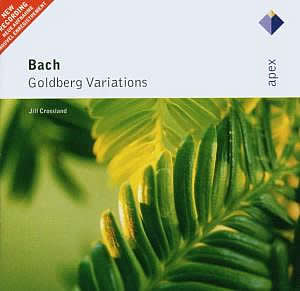 This recording was chosen as part of Classic FM's 2005 Hall of Fame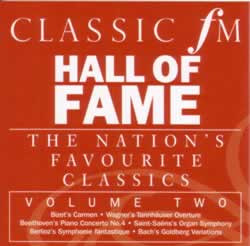 To read an extract from the liner notes click HERE
To read reviews click HERE or HERE

Warner Classics
apex 0927- 49979- 2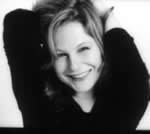 This recording was made at Vestry Hall, Ealing, London and first issued in 1998
Recording engineer Jonathan Haskell
Recording producer Oliver Jackson
Editing, mastering and project management Iain Hodge
Executive producer Jill Crossland
In 2003 this recording was issued on Warner Classics.
General information on this brand can be found at the foot of the page.
Series concept of apex Matthew Cosgrove
Project manager Vicky Owen
The recording has a second life as illustrating music from the films
in which this work was used.
The opening aria represents The English Patient
on Classic FM Magazine's cover disc for November 2004,
'Greatest Movie Music',
The closing aria represents Hannibal
in the Warner Classics/ RPO 2004 compilation 'Classic Flicks'
available in the US as Simply the Best Movie Themes
(and appears also on the 2004 Apex Sampler).
Warner apex
recordings are available from record shops and Internet retailers worldwide
and offer a comprehensive collection of the classical music repertoire at budget price.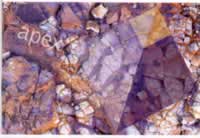 If you wish to buy this recording through this website,
payment can be made through Paypal (including by credit card) or by cheque in sterling.
Price £5 / 7.50 Euro or 8.50 US dollars + postage and packing
Please e-mail your enquiry HERE for more information or log on direct to PAYPAL and follow the instructions.
The earlier independent issue of this recording had the following cover: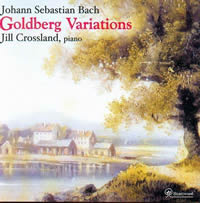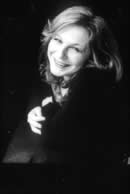 Audio Samples of Goldberg Variations:
Back to top of page
Back to Jill Crossland Recordings
*********

The Warner Classics website can be reached by clicking on the logo above.
This is what Warner Classics says about itself:
Warner Classics handles the marketing, promotion and A&R of classical recordings for Warner Music working with artistes such as Daniel Barenboim, Pierre-Laurent Aimard, Susan Graham, Nikolai Lugansky, Daniel Hope and Michael Nyman as well as many of the greatest orchestras in the world. We also have an extensive back catalogue documenting a recorded legacy stretching back to the early years of the 20th century.
In addition, Warner Classics UK is responsible for the marketing, sales and promotion of the New York-based label Nonesuch, famous for its work with Philip Glass, John Adams, Steve Reich, the Kronos Quartet and many other ground-breaking artistes. Other associated labels include Finlandia, specialising in Scandinavian artistes and repertoire, and Fonit Cetra from Italy with its archive of Italian radio recordings from the 1930s to the present day.
"Warner Classics is privileged to be working with some of the greatest classical artistes of our generation. The classical music industry faces many challenges and it is Warner Classics' aim to seek and provide new and exciting repertoire as well as staunch favourites for the serious collector and newcomer alike through a mix of catalogue exploitation and skilful A&R. Our Apex range is a great example of our success in this field - it is Britain's fastest-growing budget label."
- Matthew Cosgrove, Director of Warner Classics

Back to top of page
Back to Jill Crossland Recordings