Date: Wednesday, February 16, 2005
Place: University Theatre, Rathbone Building, University of Liverpool
Concert series: 'Merseyside Connection'
Time: 1 p.m.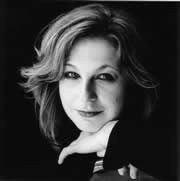 Programme:
Johann Sebastian Bach
Fantasy in C minor (BWV 906)
Jean-Philippe Rameau
Suite in E from New Pieces (1724)
Allemande-Courante-Gigues I & II-Le Rappel des Oiseaux
Riguadon I & II+ variation- Musette- Tambourin- La Villageoise
Domenico Scarlatti
Sonatas in E major Kk380, D major Kk491
Georg Friedrich Handel
Chaconne in G HWV 435

Booking arrangments: FREE and unreserved at the venue. However, non-members of Liverpool University are requested to obtain invitation tickets from the School of Music.
School of Music
University of Liverpool
80 Bedford Street South
Liverpool
L69 7WW
tel. +44 (0) 151 794 3096
fax. +44 (0) 151 794 3141
email: music@liv.ac.uk
Office hours: 9.30am-5.00pm
How to get there: Liverpool University is in Liverpool city centre a very short distance North-east of Lime Street Station
See map of the area - the venue is marked No 80 in lower right hand corner of the map.
Link to the venue - this link will take you to the venue's own page advertising the concert, series or venue.
Close this window to return to the concert calendar page.
Go direct to Jill Crossland home page